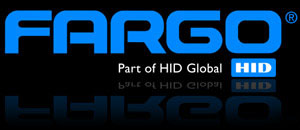 Visual Card Lite

Visual Card ID card production software together with Fargo card printing systems empowers fast, easy-to-use full colour ID card production. This fully featured software solution offers standard encoding options including Barcode printing, Magnetic-stripe and Proximity (RFID) card encoding technology.

Visual Card software includes a powerful database management tool that allows employee information to be saved in a user programmable secure database table structure. Photos are captured against each record and saved by employee or ID number or as specified by the user. Images are stored in .jpeg format externally from the database and are compressed to only 15 KB in size ! Unlimited card designs can also be created in Visual Card according to project requirements.
Visual Card Lite is an affordable singleŠproject, single-user ID Card production solution. Easy-to-install and even easier-to-use, this powerful true 32-bit program delivers high quality dynamic ID cards that are very secure and add value to your organizations image.

Visual identification remains a key component of any access control security system. Automated physical access solutions including perimeter security fencing, turnstiles and secured door access are best complimented with visual secure card identification.
Visual Card ID card software and ID card production systems are currently in use by Military, Governments Departments, Colleges and Universities, Mining Companies, and both large and small Corporations throughout South Africa, Africa and many other countries in the world.

KEY FEATURES:
" Easy-to-use card design module for single card projects and unlimited card template design.
" User specified card fields and graphics, including fixed text, variable and linked data fields.
" MS Access database, user configurable for card project requirements.
" Images may be stored externally from the Visual Card database, improving program performance and allowing sharing across a secure network with other applications.
" Advanced record search options.
" Import and export of employee database information.
" High quality photo capture and image compression via a video capture card or USB camera.
" Secondary images and signatures are captured via any TWAIN compliant device.
" On demand single card or batch printing.
" Card numbering, Barcode printing and Magnetic stripe encoding.
Innovative card design adds
value to your brand

Full colour plastic card printing
in just 5 working days !

Fargo on-site user training
fast tracks your card project

Cardworx extended warranty and maintenance plan options